You must allow cookies and JavaScript for a proper shopping experience.
BLUESTOCKING BOOKS, San Diego
3817 5th Ave, San Diego CA 92103
***
    OPEN HOURS:
11am-6pm Monday & Tuesday
-Closed Wednesdays-
11am-6pm Thursday
10am-7pm Friday & Saturday
10am-6pm Sunday 
***
CLOSED Tues May 23 - Thurs May 25
for building maintenance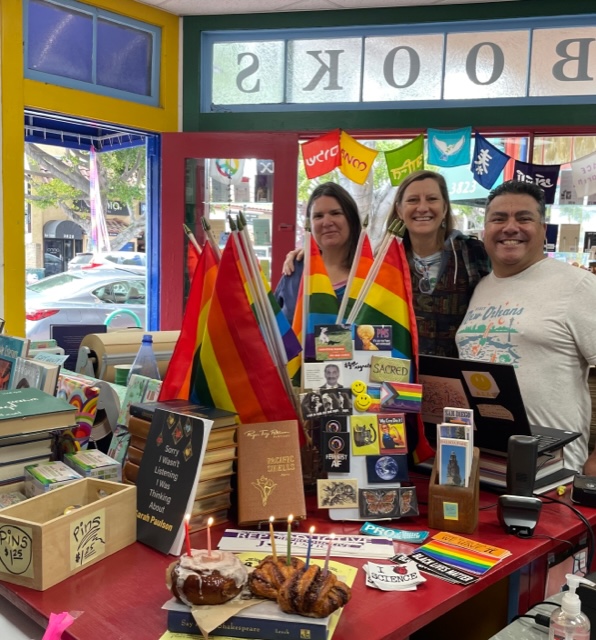 May 1 2023 marks our 24th anniversary as Bluestocking Books.
Thank you, BookLovers, for making us your go-to neighborhood bookshop! 
Most books in our shop today are listed here - search bar above! Pick-up inside, curbside, or we ship to you! Contact us with any other title request - we will get back to you with price & availability, asap :) 
***
please add us to your email address book & include your ph# in correspondence
***
ORDER BRAND NEW BOOKS FROM US, 
-AT A DISCOUNT-
SHIPPED DIRECTLY TO YOU! Here's the link:
***
In-store, we are now offering gift-wrapping!

$4.25 per small book, $6.25 per large book.

Festive llamas with colorful saddles, bearing baskets and boxes of gifts, walking through serene desertscape, profusely populated with cacti...

or groovy retro rainbow happyfying wrap too!
Baby Book Drive! Stockpiling Books for Babies in Need!
We are always collecting new books for tots 0-5yrs old to receive at pediatric check-ups. Babies enrolled in the UC San Diego Health NICU Follow-Up and Early Development Clinic program have been diagnosed with a known risk during prenatal care. The fetal development issues are monitored and when it comes to brain development, reading plays a big part. Babes get a free book (provided by our generous customers); parents get encouragement from Dr. to cuddle up and read.... and then.... Magic Happens!! Babies become more socially engaged and start to talk more.They're better prepared to start school and they're discovering a beautiful world of words & pictures. One kind doctor in this program shared with us that he sees babies more interactive on the very next visit :D!!!!!!
*
And, oh hey! 
You can also find us at 
AbeBooks.com
, a used & collectible book shopping website made up of many book dealers like us. We list our unique collectible selections and ephemera there, titles published prior to the early 1970s, cool retro pamphlets, quirky magazines or small press publications without an ISBN. They will find you through AbeBooks! Shop there securely or call us directly about any item and we can send more details.
-Stay well & keep reading!-
 Get updates & stay in touch! 
Welcome to Bluestocking Books
This creaky-floored space has been a bookshop since 1967, owned by Kris Nelson since 1999 (24 years in May 2023!) Used books, a growing selection of new books and recent releases, greetings cards & postcards, booky gift items & antique items all flow in and find new homes with our book-loving community, both local and far-flung. We're shipping daily, worldwide, and enjoy the personal connections with visitors from every state and every country who come to 3817 5th Avenue and breathe a gentle sigh, saying "Ah, this feels like home." This is a place where old (and not so old) titles jump from the shelves to be discovered, or sneak their way into your heart. Toddlers make a beeline for their section and squeal with delight seeing a book they recognize. Dogs sniff around with satisfaction and sometimes do a trick. Old friends find new things to talk about and new friends discover each other, occasionally resulting in True Love! (Browser beware!)