Bluestocking Books 3817 5th Ave San Diego CA 92103
OPEN BOOKSHOP HOURS:
Sun 10am - 5pm*
Mon-Thurs 11am - 6pm
Fri & Sat 9am - 8pm*
*Thru Dec 21 open Friday & Saturday til 9pm*
*Thru Dec 22 open Sunday til 6pm*
Dec 24 open 11am - 4pm
Closed Christmas Day
Dec 31 open 11am - 4pm
Open New Year's Day 12noon - 6pm Bring it on, 2020!
Have a book-filled New Year!
Happy Holidays, Book Lovers! It's the most groovy time of the year and we're excited to feature some of our favorite titles. Make your list and we will order all of your favorites! Inquire ASAP for price & availability; Call by Monday, December 16th to get last orders in for delivery by Christmas. Feeling generous? Scroll down for details about our Annual Baby Book Drive. Books give babies brainpower!
Featured staff favorites: * Holidays on Ice by David Sedaris * Watership Down by Richard Adams * Good and Mad by Rebecca Traister * Cat's Cradle by Kurt Vonnegut
Pete the Cat's Groovy Guide to Life by Dean & Dean * Various Elephant & Piggie books * Dover Thrift Editions
...in stock brand new because our faves don't come in as used books often enough!!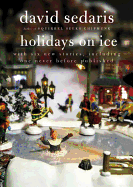 Groove to the neighborhood this December!
It feels good to cozy up with the family on a cold winter's night with a stack of books, but maybe also an adventure or two in the great urban outdoors awaits? May we suggest...
Fabulous Hillcrest taste 'n' Tinis
Thursday Dec 12 Stroll the neighborhood, enjoying small bites & sipping sample cocktails at participating indie businesses (ticketed event). We'll be offering our family-friendly signature Cinnamon Apple Tea, a warm & toasty respite from winter's chill (no ticket required for our place!)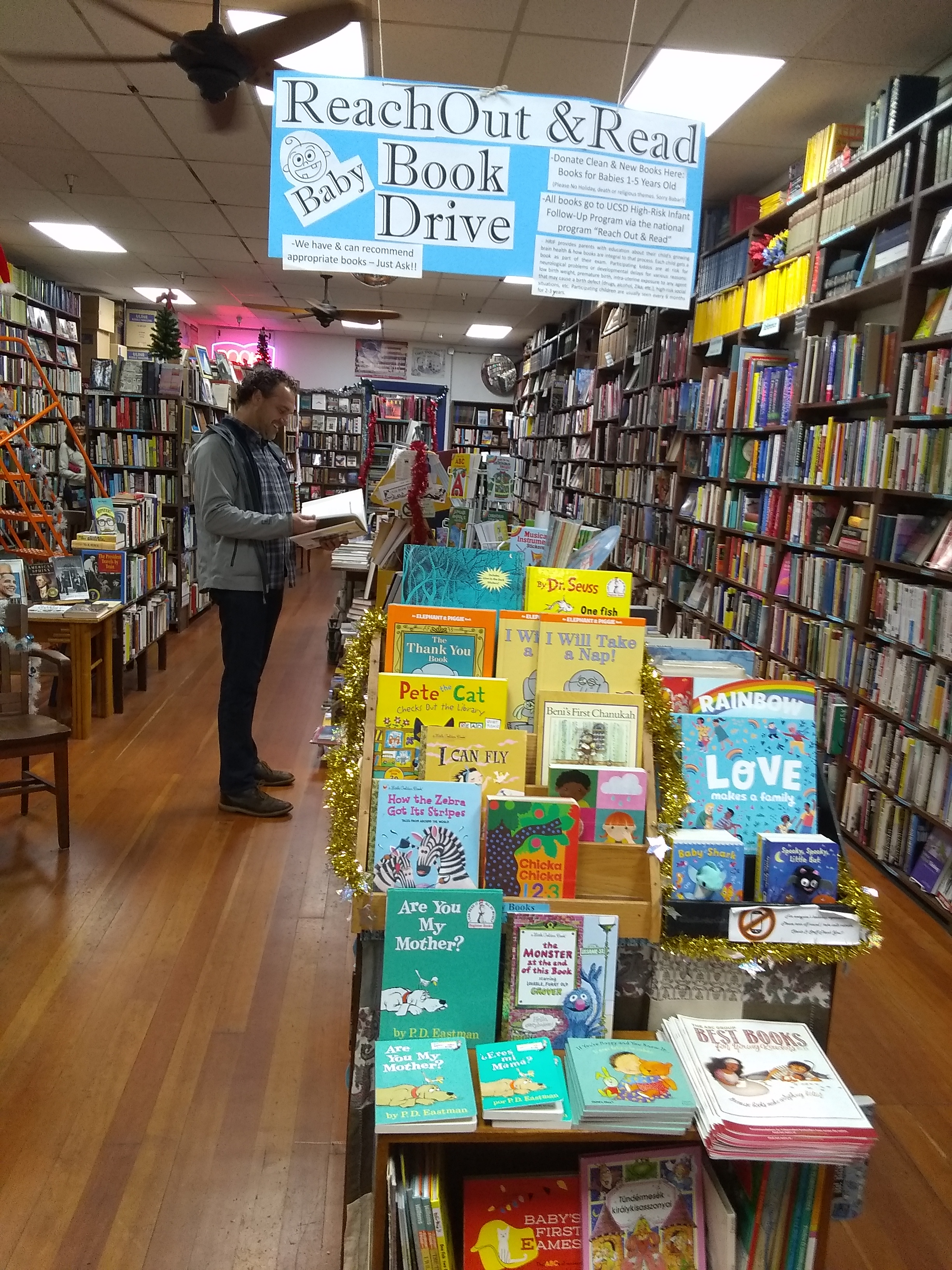 They are adorable of course, but did you know that baby books are building blocks of brain development? It's true - to grow at a healthy rate, babies require books & cuddly, being-read-to time! Every winter we collect books for the UCSD High Risk Infant Follow-Up Program via
Reach Out and Read
. Little ones receive the gift of a book during pediatric check-ups for 2-3 years as their new parents learn how to utilize books to help their baby. These are kids at risk for neurological problems or developmental delays & really need some extra help. For many it's their first book. We have a selection of board books to engage & delight; you can bring in clean, nice books for the program or order the favorites for the next generation to love too! Collecting through January 2020!.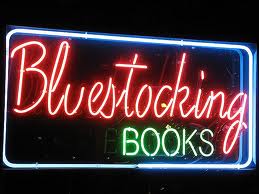 Bluestocking Books 3817 5th Ave San Diego CA 92103
New & exciting OPEN BOOKSHOP HOURS
Sun 10am - 5pm Mon-Thurs 11am - 6pm Fri & Sat 9am - 8pm
We want to be your 
go-to neighborhood bookshop,
 wherever you are. We special order books (new and used), can ship to you and your loved ones in the U.S. and worldwide. Join our 
free shipping club
 for domestic orders - see below :D*
To see what we have in stock, check 
our website
 where we refresh our inventory daily. Lots of cool items do not appear online, nor do our new titles, so please give us a call or email
[email protected]
and we'll check the stacks and our main book distributor to see what we can provide for you.
We offer 
trade credit
 for gently used books you bring in, and the trade credit you earn provides a discount towards purchase of other books and items in the store. When purchasing a used book, trade credit can pay for up to 50% -or- up to 25% of the price of new books, gift items & special orders. Give your gently used books a new life by passing them along to other book lovers. And find some new-to-you treasures!
:D* Join our Free Shipping Club! With your $50 yearly membership, we send books with USPS media rate to friends and loved ones throughout the US and at military bases. ($50= 12 regular single book shipments). We ship with clean packing materials and reuse paper and cardboard to reduce impact on our world. Plus, with your name in our database you are racking up an additional 7.5% off your purchases with continued shopping. If you like shopping local & want to turn friends and family on to Bluestocking Books, we want you in our club!
to read about order trade credit policy
Would you like a book? 
Human interaction is easy! 
Call and ask about anything or for more details on a current listing here at the website :D
We may not always have the perfect book in stock but we can usually order one. If you're looking for a favorite edition of a treasured book to share with a loved one, maybe a next generation New Reader, this is the perfect time to order for the Holidays... or maybe get a li'l something as a special gift for Yourself!
We are a "brick-n-mortar" REAL BOOKSHOP where magical life-changing books are discovered, toddlers squeal in delight at the sight of a book they recognize, old friends strolling together find common loves in literature & history, true loves meet and dogs sit politely for a treat. Yes, there are random philosophical quotes uttered aloud and books recommended by friends and strangers alike. We are community whether we know you or not, fellow reader and booklover: welcome to our tradition! Our street address has housed a bookstore since 1967; the 3rd owner & staff (for ~19 years now!) intend to carry on the full-service neighborhood bookshop customs as long as there is a demand. We stock mostly used books and order both new and used books -just inquire. We have regular deliveries for the classic reprints and new releases. 
       11am-7pm Monday - Thursday
       9am-8pm Friday & Saturday

If you can't find what you like please fill out our off-line search form and we will search our off-line inventory, other bookstores and book search services for you. Or just give us a ring! Thanks - BsB