BLUESTOCKING BOOKS 3817 Fifth Aveune, San Diego CA 92103
TAKE-OUT ONLY
Limited hours

☎️

 12noon-4pm daily call (619) 296-1424 to pre-arrange
We ship daily - anywhere - new or used books!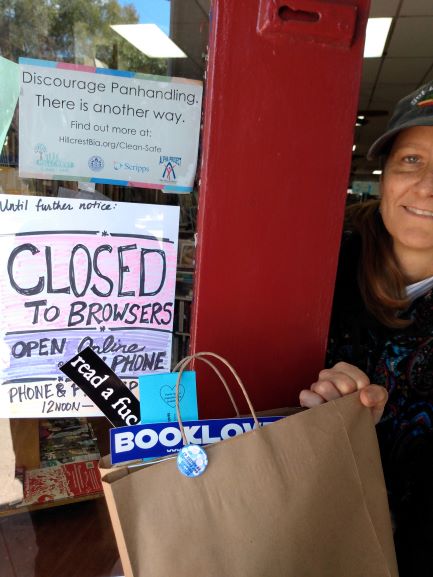 How can we help? Please ask!
In-store used books can be purchased here at the website (we catalog almost everything). Order online  or phone in your request & we ship to you or loved ones in the US or any U.S. Military Base.
Brand new books can also be sent right to you from a huge new books distributor  (not amazon). The new book possibilities are endless, but they're not at our website (yet!) so
for new releases or new editions of favorites - just ask!!
If you're seeking an out-of-print book, perhaps a collectible book you remember from childhood, we are here for you. We'll do the research and find it, if we can. Every title / book is different and we look the for  best copy at the best price. 
We ship daily, as always...
MEDIA MAIL $3.99 for the 1st book, $2.00 per book after that
PRIORITY MAIL $7.99 for the 1st book, $2.00 each after that
-unless really big & heavy ...we'll work it out!
For best results, browse here at the website and email / call in your request. 
You can also find us at AbeBooks.com for unique collectible books and ephemera. Books published prior to the early 1970s or small press publications without an ISBN have a special place at AbeBooks.
We are
excited about a new indie bookstore platform alternative to amazon: BookShop Beta: a place to order new books. We're building a selection of titles there, which is just a drop in the bucket of an ocean of books available. Be sure to look up your author & title requests at our shop on BookShop Beta
NO BOOK TRADES AT THIS TIME
Please hold book trades for us (we still want them!) for when the Coronavirus restrictions have been lifted. We don't want this virus to be transmitted from anyone to anyone in our space!
Be safe, friends, and keep reading!