Please join us for the
San Diego Book Crawl 2019
, Saturday April 27 thru Monday April 29, in celebration of Independent Bookstore Day. Visit some or all of the 9 participating bookshops and receive (with purchase) thank you gifts, Book Crawl exclusives & chances to win awesome prizes. You're the independent minds we're here for every day... thank you & happy book crawlin'!
\
Our Booky Specials, Now 20% off!
Bibliophile: An Illustrated Miscellany
by Jane Mount
$24.95 hardback Now 20% off = $19.96
This colorful specials explores such bookish topics as fictional meals, authors' work spaces, indie bookstores around the world and the ever popular bookshop cat. Beautifully illustrated by Jane Mount (but wait, we're also carrying her luscious boxed greeting cards and blank notebooks for a well-rounded literary experience!).
Book Towns: Forty Five Paradises of the Printed Word 
by Alex Johnson
$22.99 hardback Now 20% off = $18.39
This pleasing hardcover takes readers on a tour of literary towns around the world, outlining the history and development of each community; all dedicated havens of literature and the ultimate dream of book lovers everywhere!
Books & Mortrar: A Celebration of the Local Bookstore
published by Gibbs Smith
$16.99 hardback Now 20% off = $13.59
The local bookstore is a place of wonder, refuge and rejuvenation as well as a literary stronghold; here seventy-five oil paintings capture these storefronts at a moment in time and pair the artwork with quotations about the joy of reading, the importance of booksotres and in many cases, anecdotes about the shops and owners.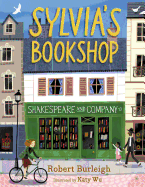 Shakespeare and Company: New Edition
by Sylvia Beach
$19.95 hardback Now 20% off = $15.96
Shakespeare and Company, Paris: A History of the Rag & Bone Shop of the Heart 
by Halverson & Winterson
$34.95 hardback Now 20% off = $27.96
Sylvia's Bookshop: The Story of Paris's Beloved Bookstore and its Founder (as told by the Bookstore Itself!)
by Burleigh & Wu
$17.99 hardback Now 20% off = $14.39
Picture Book recommended for ages 4-8 & beyond!
Three titles each pay homage to the famous English-language Paris bookshop, born in the vibrant 1920's and re-invented for contemporary readers.
1st in a 12 part series of: My 20th Year at Bluestocking Books, San Diego and What Makes it Magical by Kris Nelson, owner/mngr, Bluestocking Books
January, 2019
Reading Grows Brains!
-or-
What I have learned from our Annual Baby Book Drive
Bluestocking Books does an annual book drive collecting books for Reach Out and Read so that more & more kids will be familiar with books & learning before they get to pre-school. We work with ROAR, a wonderful national program that hooked us up with a branch of UCSD so we accumulate 100-200 books each year for babies and toddlers in need of reading for healthy brain development. I started doing this simply because it was important for the bookshop to be charitable in some way. Because our books go to the UCSD High Risk Infant Follow-Up Program (via ROAR) during doctor visits, I fully trust our donation is utilized well. As the years have passed and I have learned more about the program, and baby brains, I have come to adore being a part of it so much more.
I grew up the 4th kid with a boatload of old books and toys from my sister and brothers so it's hard for me to imagine a house without books, but I know reading is not everybody's thing. I noticed the ROAR information says that books are "needed" so I kept reading, wondering what happens if people are having the babies and not sitting & reading to them? Is reading any different for babies than it is for adults who can fill their time & minds in other ways?  Why, yes. Yes x 1000 = YES! And this is not just bookshop propaganda! There's a boatload of social science backing this up and it's fascinating.
The first few years of a person's life basically set the stage for the rest of the play – how the brain develops during that 1-5 year period affects the rest of a child's life. Baby is learning to see and to feel and to interact – to leave wherever the heck we come from and head into this big, amazing world. Being held close and hearing a loving voice is something every baby loves. One of the best ways to engage young children is through looking at books together. Simply by spending time reading, babes will not only learn to recognize sounds and letters, they will begin to understand a wider range of vocabulary along with the tones of different sounds and emotions. Babes will see how to handle books, and soon follow how stories work, as well as develop the ability to listen.
When our clients ask advice for buying baby books, I fall back on what I have learned from Reach Out & Read because let's face it – all the kiddie books are adorable so what's the difference? "Well," sez I,"… if it's a really new baby, one can enjoy picking out something with simple shapes or ABCs with chunky pages. At 1-2 years come the rhyming and silly books like Dr. Seuss, as baby starts mimicking sounds and learning to talk. For a little somebody 2-5 years old, perhaps a storybook with a little plot involved so kiddo's catching on that it's more than just words, it's a story! Now might also be time to introduce a book with regular paper pages to help learn how to handle books. "
This snuggly, reading time spent with baby's primary angel parents is exactly what kiddo needs to succeed in school! Studies show that in the US, one-third of young children (and one-half of children living in poverty) begin kindergarten without these basic skills. THIS AFFECTS EVERYTHING. Reading Foundation.org estimates that the approx. 40% of students that enter kindergarten with below grade level reading skills have a higher (up to 50%!!) chance of dropping out before completing high school. It's not hard to imagine how - if one starts out behind everyone else, and every year that goes by means it all gets more complicated, it gets overwhelming! Only about 1/3 of the kids that start out at a disadvantage ever catch up! L
Reach Out and Read provides books and advice to parents during doctor visits, and since more than 91% of children under the age of six attend routine pediatric visits at least once a year it's a very effective way to help kids that aren't showing the development a doctor considers healthy. The health care professional will talk with parents about how important it is to read aloud and engage with their young children & demonstrate how best to look at books and talk about the stories with their cutie-pies. They will encourage them to cuddle up and read together at home and to build routines around books & then give a new book to the child to take home and keep. At the end of the program, every child has a home-library of books, each given with the advice to parents that they are their child's first and most important teacher.  Reach Out and Read started up in 1989 at Boston City Hospital and gave out 1,000 books to kids during doctor check-ups. By 2001 their model was working in all 50 states. Today, Reach Out and Read partners with more than 5,800 program sites and distributes 6.9 million books per year! MILLIONS! (**I tear up. Seriously. How fricking cool is that!??)
We take books for the program all year long. We can always accept books for ages 1-5, in new condition for this program. The books can come from anywhere – they don't have to be purchased here. To all clients and my personal friends who have donated books or funding for this program in 2018 or past years (and we see that some of you do every year!) THANK YOU!!! To those who gave Bluestocking Books the funds to purchase the books or bought the books from us – XTRA SPECIAL THANK YOU!!!
I see it in the bookshop and experience it myself so I can tell you truly: freely giving something to somebody who really needs it creates good feelings inside the people who give as well as the receiver of the gift – not just in stories, it's for real! By helping some youngsters acquire this foundation for success, I am hoping Bluestocking Books helps folks grow into more engaged human beings: as both parents & children. I feel such happiness handing over the books each year knowing more new little humans and their loved ones will enjoy the giving and receiving of reading, and be cuddled up with each other.
Thanks for reading this. I hope to expand on other aspects of this rewarding, lovely bookshop & personal odyssey as the months of year 20 roll forward - kn
We want to be your 
go-to neighborhood bookshop,
 wherever you are. We special order books (new and used), can ship to you and your loved ones in the U.S. and worldwide (join our 
free shipping club
 for domestic orders - see below :D*
To see what we have in stock, check 
our website
 where we refresh our inventory daily. A small percentage of used items do not appear online, nor do our new titles, so please give us a call or email
[email protected]
and we'll check the stacks. 
We offer 
trade credit
 for books you bring in which we feel our customers will love. The trade credit you earn provides a discount towards purchase of other books and items in the store. If you're getting a used book, the trade credit can pay for up to 50% while trade credit pays for up to 25% of the price of new books, gift items & special orders. Give your gently used books a new life by passing them along to other book lovers. And find some new-to-you treasures!
:D* Join our Free Shipping Club! With your $50 yearly membership, send books with USPS media rate to friends and loved ones throughout the US and at military bases. ($50= 12 regular single book shipments). We ship with clean packing materials and reuse paper and cardboard to reduce impact on our world. Plus, with your name in our database you are racking up an additional 7.5% off your purchases with continued shopping. If you like shopping local & want to turn friends and family on to Bluestokcing Books, we want you in our club!
to read about order trade credit policy
Would you like a book? 
Human interaction is easy! 
Call and ask about anything or for more details on a current listing here at the website :D
We may not always have the perfect book in stock but we can usually order one. If you're looking for a favorite edition of a treasured book to share with a loved one, maybe a next generation New Reader, this is the perfect time to order for the Holidays... or maybe get a li'l something as a special gift for Yourself!
We are a "brick-n-mortar" REAL BOOKSHOP where magical life-changing books are discovered, toddlers squeal in delight at the sight of a book they recognize, old friends strolling together find common loves in literature & history, true loves meet and dogs sit politely for a treat. Yes, there are random philosophical quotes uttered aloud and books recommended by friends and strangers alike. We are community whether we know you or not, fellow reader and booklover: welcome to our tradition! Our street address has housed a bookstore since 1967; the 3rd owner & staff (for ~19 years now!) intend to carry on the full-service neighborhood bookshop customs as long as there is a demand. We stock mostly used books and order both new and used books -just inquire. We have regular deliveries for the classic reprints and new releases. 
       11am-7pm Monday - Thursday
       9am-9:30pm Friday & Saturday

If you can't find what you like please fill out our off-line search form and we will search our off-line inventory, other bookstores and book search services for you. Or just give us a ring! Thanks - BsB